As we approach the Oscar season & we are keeping our fingers crossed for our favourites. But here we take a look at the Best VFX nominees this year, and analyze their chances of winning the coveted trophy.
Ex Machina
A futuristic sci-fi British psychological thriller, this is about a computer programmer who encounters an artificially intelligent robot named Ava. The robot is designed as a cyborg with a striking human-like appearance but also obvious translucent robotic components.
Double Negative, Milk VFX, Plum Animation & Utopia are some of the key visual effects teams that worked on this movie.

Source: CGMeetup
Oscar hit: On its own, Ex Machina packs a fine punch. The manner in which Ava's CG rendered body parts are seamlessly blended into the cinematography shots is incredible.
Oscar miss: The movie has some amazing VFX but nearly not enough to make it a strong contender especially when pitted against the other heavyweights this awards season.
Mad Max: Fury Road
A thrilling, action-packed film, primarily about long vehicle chases. Hundreds of visual effects artists, managed by visual effects supervisor, Andrew Jackson, created more than 2000 visual effects shots & helped to transform the exquisite photography into the final film.

Source: CGRecord Team
Oscar hit: The stunning VFX made it a huge hit both at the box office as well as with the critics.
Oscar miss: Competing against this year's BAFTA Award Winner, Star Wars: The Force Awakens.
The Martian
Another science fiction film on the list, the movie is based on Andy Weir's 2011 novel of the same name. It tells the story of an astronaut who is mistakenly presumed dead & left behind on Mars, and his struggle to survive.
Principal VFX studio, MPC developed a special compositing tool to deal with the blue skies of Jordan, and convert them into Mars landscapes. Framestore capitalized on its Gravity experience to deliver photo-real CG spacecrafts & characters. The Senate was responsible for NASA scenes & earth-bound shots.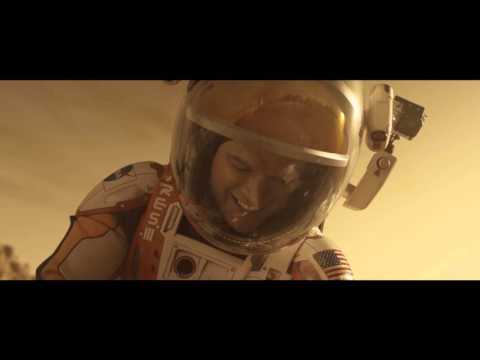 Source: mpcvfx
Oscar hit: Critics say that the VFX in The Martian is so good that it's tough to tell the difference between live action & special effects. But will that be enough to take the golden statue home? We'll have to wait & watch.
Oscar miss: Stiff competition…phew!
The Revenant
The Revenant has become synonymous with the bear mauling scene, an epic VFX effort that landed it the coveted nomination.
Oscar hit: The combined effort of the actors & the visual effects team has made the movie a visual treat. It is one of the major contenders for the category. But will that be enough to cross the finish line?
Oscar miss: Let's just say, Leonardo DiCaprio's track record at the Oscars.
Star Wars: The Force Awakens
The epic space opera is the seventh instalment in the Star Wars series.

Source: IAMAG
Oscar hit: With the BAFTA Awards already under its belt, it is a strong contender at the Oscars.
Oscar miss: Stiff competition from & popularity of The Martian & Mad Max: Fury Road